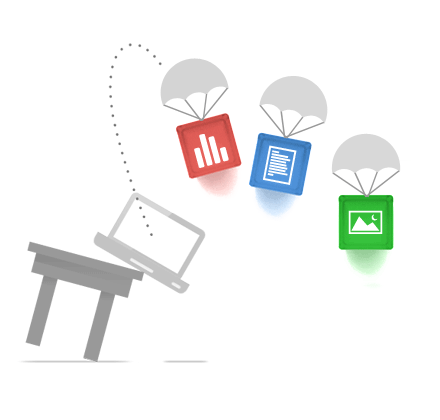 I remember when I bought my first MacBook. I had been waiting two years to make the exciting switch to Apple, and once I did, I knew I'd never go back. I even remember the day I turned it on.
I couldn't quite wrap my brain around all the beautiful typography, colorful hues, up-to-date programs, and obvious innovation that composed my 12-inch computer. Sure, it wasn't a cheap purchase, but I was in love… with a computer.
As the years go by and innovation and creativity continue to grow at infinite speeds, I'm captivated by technology more and more every day. It would be foolish not to give credit to Apple, Microsoft, Facebook, and Twitter for changing the way in which we exist and interact with one another. No one could deny that. But, I want to take a moment to talk about Google, particularly Google Drive (formerly Google Docs).
Since the day I started using Microsoft Word, PowerPoint, Excel, and the rest of those compose-your-own-document programs, I have absolutely detested them. Not only have they become more and more difficult to navigate through over the years, they are also unreliable. I can't tell you the number of times I've grown angry with a Word document for instantly formatting my stories, at PowerPoint for crashing when I'm almost done finishing my last slide, or at Excel for being one of the most poorly designed programs on the market today.
Whenever it came time to print a document or email it off to a colleague, I always prayed everything would work out. My mind would conjure up the worst anxieties about a paper not making it to its destination, and often times, my premonitions came true. I'd wonder why the document didn't download as the right file, why my PowerPoint presentation was not compatible with a newer version of PowerPoint, and why I put up with all the stress of these programs.
Google Docs, now called Google Drive, changed the way in which I interact with Word, Excel, and PowerPoint. If a document wasn't able to print from my home, I could breathe a sigh of relief knowing I could access it from anywhere. If my computer crashed, I felt confident in knowing all of my documents were still accessible. If I needed a colleague to look over my work before I submitted it, I could rely on Google Docs to "share" my document with them and allow the person to incorporate changes or suggestions.
In fact, I no longer even store programs like Microsoft Word, Excel, or PowerPoint on my computer because I find Google Drive to be useful in most every shape and form.
Google has been at the forefront of innovation since its creation. Google Drive is receiving a lot of positive reviews, and the hype surrounding this newest version couldn't be more appropriate.
Google Drive allows individuals to collaborate on documents at the same time, access documents through a simple link, search through a document archive, and go back and undo automatic revisions. If that isn't exciting enough, an iPad and iPhone app is coming soon that will allow individuals to access Google Drive through their smartphones or tablets. If you haven't accessed Google Drive yet, give it a test drive and see what you think.
About the Author:
This guest post is contributed by Katheryn Rivas – an avid blogger whose true calling is researching and exploring the future of learning. For comments and questions, she can be reached at katherynrivas87@gmail.com.