The Internet Archive is building a Canadian copy to protect itself from Trump;  $89 Linux laptop? Check out the new Pinebook;  Protect Yourself With a Free VPN Service;  How to watch Netflix, Hulu, and other streaming services offline with PlayOn Cloud;  The best Facebook Messenger games to play right now;  Five To-Do apps that got a lot smarter this month;  The state of malware: 4 big takeaways from AV-TEST's 2016 report;  7 best PC games to play over winter break – and much more news you need to know.
The Internet Archive is building a Canadian copy to protect itself from Trump – The Internet Archive, a digital library nonprofit that preserves billions of webpages for the historical record, is building a backup archive in Canada after the election of Donald Trump. Today, it began collecting donations for the Internet Archive of Canada, intended to create a copy of the archive outside the United States. "On November 9th in America, we woke up to a new administration promising radical change," writes founder Brewster Kahle. "It was a firm reminder that institutions like ours, built for the long-term, need to design for change. For us, it means keeping our cultural materials safe, private and perpetually accessible. It means preparing for a web that may face greater restrictions. It means serving patrons in a world in which government surveillance is not going away; indeed it looks like it will increase."
Protect Yourself With a Free VPN Service – Very little in life is truly free, but as far as virtual private networks (or VPNs) are concerned, you can get quite a bit for nothing. Though you'll likely have to pay to get all the features of the best VPN services, there are many free options available. If it's the price tag that has prevented you from using a VPN, you should definitely try one of these services.
$89 Linux laptop? Check out the new Pinebook from Raspberry Pi rival Pine – The makers of a popular Raspberry Pi challenger, the $20 Pine A64, have returned with two sub-$100 Linux laptops, called Pinebooks. With an Allwinner quad-core ARM Cortex A53 64-bit processor, the A64 board could run Ubuntu, Debian, or Android Lollipop 5.1. The same processor is powering the 11-inch and 14-inch Pinebook notebooks, which at $89 and $99 respectively, could become some of the cheapest laptops available. The displays on both models have a 1,280 x 720-pixel resolution, and besides the A64's ARM processor, the Pinebooks include the basics needed for a functional laptop, including display, keyboard, touchpad, storage, memory, and ports.
The sub-$100 Pinebook runs on an ARM CPU and Linux. Image: Pine
Fedora 25 makes Linux easy enough for anyone to try – The Fedora community created one of the smoothest Linux Installation experiences ever.
How to watch Netflix, Hulu, and other streaming services offline with PlayOn Cloud – The free PlayOn Cloud iOS app is a 'streaming digital video recorder' that lets you watch offline video from Netflix, Hulu and other services.
Facebook is bringing games like Pac-Man to Messenger and your News Feed – Facebook wants you playing games just about everywhere, and today the company is introducing a new initiative called Facebook Instant Games that it hopes will do just that. Instant Games is an HTML5 gaming platform that lets Facebook users play games on Messenger and in the Facebook News Feed, without the need to download anything. Instant Games are cross-platform, so they'll work on both the web and mobile. The service launches today in a closed beta with a total of 17 games, including the likes of Pac-Man, Galaga, Space Invaders, and Words With Friends.
The best Facebook Messenger games to play right now – Starting today you can play games inside Facebook Messenger and News Feed, but which should you try? There are old classics like Pac-Man and Space Invaders, as well as modern titles like EverWing and Words With Friends you can play by tapping the game controller icon in a Messenger thread. Click or scroll through to see our quick reviews and scores out of 10 for all 17 of the launch titles, plus our three favorite picks at the end.
Yahoo brings its Q&A site to mobile via a new app, Yahoo Answers Now – Yahoo has quietly launched a native mobile app for Yahoo Answers, one of the web's largest Q&A sites which attracts over 3.1 million U.S. monthly visitors. The app, which was previously being tested under a different name, Yahoo Hive, was rebranded to Yahoo Answers Now at the beginning of the month. Like the web version, Yahoo Answers Now lets you view, ask, answer and track questions posed by the online community.
A new rating system will tell you if SD cards are capable of running mobile apps – The SD Association announced a new "app performance class" that will give buyers more knowledge about what to put inside their phones.
Five To-Do apps that got a lot smarter this month – The holiday season doesn't just usher in the shopping season, it also signals the count down to a new year. Which means that, in addition to trying to work off all that holiday food, people will obsess over resolutions, plans, and goals. Yes, it's the perfect time to be a todo list app or a productivity app. And as if warming up the engines for the holidays, a handful of such apps and services have stepped up their game to deliver just a bit more smartness to their list of features. Here are five of the best known todo apps that have just made your productivity even more productive.
How to download Windows Store apps with a local account – Microsoft didn't want you to use the Windows Store without signing in with a Microsoft Account. That no longer appears to be the case.
SnipBack: The best audio recording Android app you've never heard of – There's a new Android audio recorder in town, and it's making its competition look bad. Find out why SnipBack should be your go-to mobile recording app.
AMD will sneak-peek its high-end Zen CPU in December, starting a new CPU war – AMD's Zen chips are supposed to be as fast as Intel's fastest, and they may also be a lot cheaper. If the rumors come true, Intel will finally have some competition in high-end gaming CPUs.
Why you should start using Google Keep right away – Artificial intelligence is transforming Google's yellow sticky note app into an indispensable peripheral to your own mind.
It will soon be illegal to punish customers who criticize businesses online – Congress has passed a law protecting the right of US consumers to post negative online reviews without fear of retaliation from companies. The bipartisan Consumer Review Fairness Act was passed by unanimous consent in the US Senate yesterday, a Senate Commerce Committee announcement said. The bill, introduced in 2014, was already approved by the House of Representatives and now awaits President Obama's signature.
Cyber Monday hauls in $3.45B of online purchases, smashing the single-day sales record – As people continue to hunt for bargains online, we are more seeing more record-breaking marquee online sales days. Cyber Monday — coming the first day after the long Thanksgiving break — racked up $3.45 billion in sales in the U.S., pipping past the previous record of $3.34 billion spent on Black Friday just a few days earlier. Sales were up 12.1 percent compared to Cyber Monday a year earlier. Both figures come from Adobe, which said it tracked 23 billion anonymised visits to retail websites, covering 80 percent of all online transactions for the top 100 U.S. retailers. Earlier in the day, Adobe had said it expected $3.36 billion in sales.
Apple has a Calendar and Photos spam problem and it better fix it soon – There's a nasty new kind of spam hitting Apple users across the Internet. We show you what's happening, point you to some fixes, and call on Apple to make fixing this loophole a top priority.
Security:
Tech support scams evolve, borrow tricks from ransomware creators – If cold calling, fake alerts, and screen lockers aren't enough, potential victims now face a new threat born from ransomware.
Firefox 0day in the wild is being used to attack Tor users – There's a zero-day exploit in the wild that's being used to execute malicious code on the computers of people using Tor and possibly other users of the Firefox browser, officials of the anonymity service confirmed Tuesday. According to security researchers who analyzed the code, it exploits a memory corruption vulnerability that allows malicious code to be executed on computers running Windows. The malicious payload it delivers, according to an independent researcher who goes by the Twitter handle @TheWack0lian, is almost identical to one that was used in 2013 to deanonymize people visiting a Tor-shielded child pornography site. The FBI ultimately acknowledged responsibility for the exploit, which was embedded in Web pages served by a service known as Freedom Hosting.
Newly discovered router flaw being hammered by in-the-wild attacks – Online criminals—at least some of them wielding the notorious Mirai malware that transforms Internet-of-things devices into powerful denial-of-service cannons—have begun exploiting a critical flaw that may be present in millions of home routers. Routers provided to German and Irish ISP customers for Deutsche Telekom and Eircom, respectively, have already been identified as being vulnerable, according to recently published reports from researchers tracking the attacks. The attacks exploit weaknesses found in routers made by Zyxel, Speedport, and possibly other manufacturers. The devices leave Internet port 7547 open to outside connections. The exploits use the opening to send commands based on the TR-069 and related TR-064 protocols, which ISPs use to remotely manage large fleets of hardware. According to this advisory published Monday morning by the SANS Internet Storm Center, honeypot servers posing as vulnerable routers are receiving exploits every five to 10 minutes.
The state of malware: 4 big takeaways from AV-TEST's 2016 report – The new report details increased risks to Android and Apple products and the top 10 Windows malware programs of 2016. Here's what your business needs to know to stay safe.
Web CCTV cams can be hijacked by single HTTP request – An insecure web server embedded in more than 35 models of internet-connected CCTV cameras leaves countless devices wide open to hijacking, it is claimed. The gadgets can be commandeered from the other side of the world with a single HTTP GET request before any password authentication checks take place, we're told. If your camera is one of the at-risk devices, and it can be reached on the web, then it can be attacked, infected with malware and spied on. Network cameras typically use UPnP to drill through to the public internet automatically via your home router. Proof-of-concept code to exploit the vulnerable web server in the cameras can be found right here on GitHub.
Thousands of xHamster login credentials surface online – Members of the porn site xHamster should be changing their passwords today after a set of nearly 380,000 usernames, emails and poorly hashed passwords appeared online. The subscription-only breach notification site LeakBase has published the set of login credentials, which Motherboard reports were being traded online. It's not clear exactly where the database originated, but it contains information for only a small subset of xHamster's 12 million registered users. While xHamster doesn't require viewers to register with the site, those who do can comment and make video playlists. Still, the leaked information has the potential to embarrass users — several of the accounts are linked to U.S. Army and other government email addresses. If xHamster's subscribers reused their passwords on other sites, their accounts on those sites are at risk of compromise, as well.
Uber begins background collection of rider location data – Imagine you're on your way to a therapy appointment in a downtown high-rise. You hail an Uber and enter a nearby coffee shop as your destination so you can grab a snack before the appointment. In the car, you scroll through Instagram and check your email. You get out, buy your coffee, and walk around the corner to your therapist's office. If you installed the latest app update, Uber has been tracking your location the entire time.
Company News:
Samsung Electronics considers restructure following pressure from shareholders – Samsung Electronics has revealed that it is considering splitting the company into two following pressure from investors. Stakeholder Elliott Management last month criticized the Korean firm's structure which it believes prioritizes the Lee family, which owns the Samsung Group, over its shareholders. In a statement released Monday, Samsung Electronics said it is assessing whether to implement a new corporate structure — which could see the establishment of a holding company — and the potential to list on additional stock exchanges worldwide. Samsung Electronics is working with "external advisors" to look over the possibilities, it said.
Report: Intel plans to make the Core i7 the brains behind self-driving cars – Sixteen years ago, a small low-power chip startup called Transmeta forced Intel to retool its desktop PC processors to meet the demands of notebooks. Today, Intel is adapting its PC processors to an entirely new market: self-driving cars. Intel has joined forces with Mobileye—the former brains behind Tesla Motors' autopilot system—and auto parts maker Delphi, according to several reports.
Adblock Plus wins its 6th court case, brought by Der Spiegel – In the US, blocking online advertisements might land you in a heated debate. In Germany, you might have that debate in front of a judge. Eyeo GmbH, the company that makes Adblock Plus, has been through no fewer than six court cases by publishers who say blocking online ads violates German law. The ad-blocking company has now won all of its cases at the district level, and one case has been through an appeal. Other cases continue through the German appeals courts. The final lawsuit was brought by Germany's best-known media brand, Spiegel Online, run by the same company that owns the newsmagazine Der Spiegel. Yesterday, Eyeo disclosed that its lawyers were contacted by telephone to be told that the case against them has been dismissed. The judge's reasoning won't be known until a written decision is released later this week.
Uber to European Court: We're Not a Transportation Company – If the court rules that Uber is more than just an app, it will be subject to the same regulations as its taxi competitors.
Report: Google on pace to sell 3 million Pixels by the end of the year – A Morgan Stanley estimate says Google should sell another 5 to 6 million next year, though Samsung remains the smartphone sales king.
Games and Entertainment:
AT&T launches streaming TV service to compete with Vue, Sling – If you're looking to cut cable TV, a new video streaming service from AT&T will be available starting Wednesday. DirecTV Now is a flexible pay-as-you-go streaming service that starts at US$35 per month. DirectTV's conventional satellite service is the foundation, but the content will be streamed over the internet. Traditionally, users needed a two-year commitment and credit check to get DirecTV, but those requirements are not needed for the new service. The streaming service will work on the Roku, Apple TV, Chromecast, and Amazon Fire TV streaming devices, as well as mobile devices with Android and iOS and PCs. There are four pricing bundles, AT&T said at a press event in New York City. Users will be able to get more than 60 channels for $35, more than 80 for $50, more than 100 for $60, and more than 120 for $70. As an introductory promotion, AT&T will offer 100 channels for $35.
7 best PC games to play over winter break – With winter break quickly approaching for many students in the US, a lot of you might be thinking about how you're going to spend your time. More specifically, you might be wondering what games out there are worthy of a playthrough while you have some time to burn. We've already covered seven console games that are worth a look during your time away from school, but here are seven more for those of you playing on PC.
7 best console games to play over winter break – Now that Thanksgiving is behind us, some form of winter break is on the horizon for many students in the US. For high school students, winter break can last around two weeks, while colleges and universities usually break for three or four. If you're in parts of the country that actually see snow and cold, spending any significant time outside may not be possible, so what's a student with nothing but time to do? Play video games, of course – here are seven console-based games you should consider spending your winter break with.
The hottest games of winter – This time of year brings all kinds of reasons to stay in and play a video game, whether you prefer console or computer. As the nights grow longer, we'll be firing up the hottest games of the season: Here are the four you won't want to miss this month and next, three more coming at the top of 2017, and the holiday deals and discounts to watch for.
Off Topic (Sort of):
Google Earth Timelapse update shows Earth from 1984-2016 – Google Earth Timelapse is a really awesome project that lets you turn back the clock on Planet Earth. In 2013, Google worked with the US Geological Survey (USGS), NASA, and TIME to compile a history of satellite imagery from 1984 to 2012. Today, Google updated the project with "four additional years of imagery, petabytes of new data, and a sharper view of the Earth from 1984 to 2016." The new data isn't just "new" data—Google also managed to compile better older images of Earth thanks to the Landsat Global Archive Consolidation Program. Google says it sifted through 5 million satellite images from five different satellites, taking the best of the "three quadrillion pixels" to create 33 images of Earth (one for each year). Thanks to the plethora of data and Google's cloud-computing algorithms, you get all of this without any clouds blocking the view.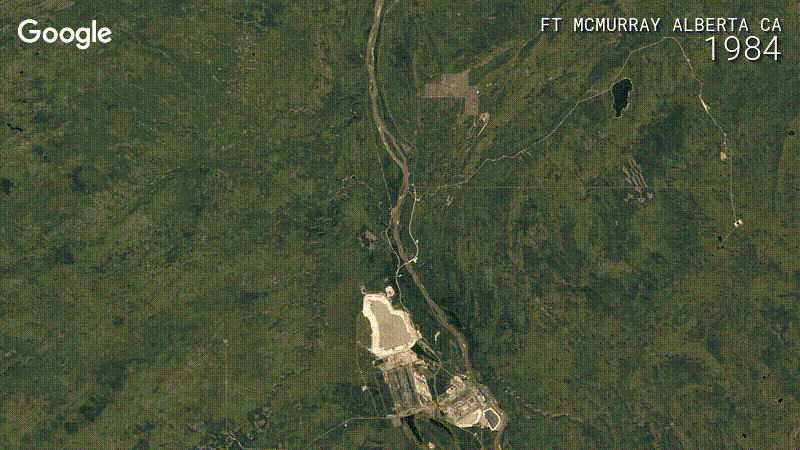 Why Fake News Is So Incredibly Effective – If you get your news from social media, as most Americans do, you are exposed to a daily dose of hoaxes, rumors, conspiracy theories and misleading news. When it's all mixed in with reliable information from honest sources, the truth can be very hard to discern. In fact, my research team's analysis of data from Columbia University's Emergent rumor tracker suggests that this misinformation is just as likely to go viral as reliable information.
Homeopathic solutions now have to be labeled to disclose that there's no science behind them – The FTC is playing whack-a-mole with pseudoscience again, and this time it's targeting homeopathy. Their latest comments contend (PDF) that the standard disclaimer isn't enough to dissuade consumers from buying this crap, so now not only do homeopathic products have to carry the standard disclaimer, they also have to say there's no science behind them.
FDA approves large-scale trials of ecstasy to treat PTSD – The Food and Drug Administration (FDA) has approved the use of MDMA in large-scale clinical trials, The New York Times reports, amid emerging evidence that the illegal party drug could be used to treat post-traumatic stress disorder (PTSD). The Phase 3 research will involve at least 230 patients, the Times reports, and will be funded by the Multidisciplinary Association for Psychedelic Studies (MAPS), an organization that advocates for the medical use of marijuana, LSD, and MDMA (also known as ecstasy). MAPS has already funded six Phase 2 studies of MDMA, involving 130 PTSD patients in total. In one study involving 19 PTSD patients, 56 percent said their symptoms declined in severity after receiving three doses of MDMA; by the end of the study, two-thirds didn't meet the criteria for having PTSD.
Ex-Watergate investigators urge Obama to show leniency to Edward Snowden – President Obama has been urged to show leniency to NSA whistleblower Edward Snowden by 15 intelligence experts, who were part of a 1970s congressional committee that investigated the CIA during the Watergate era.
Something to think about:
"When one admits that nothing is certain one must, I think, also admit that some things are much more nearly certain than others."
–       Bertrand Russell     (1872 – 1970)
In Pursuit of Freedom – The Pushback Continues:
THE UK NOW WIELDS UNPRECEDENTED SURVEILLANCE POWERS — HERE'S WHAT IT MEANS – The UK is about to become one of the world's foremost surveillance states, allowing its police and intelligence agencies to spy on its own people to a degree that is unprecedented for a democracy. The UN's privacy chief has called the situation "worse than scary." Edward Snowden says it's simply "the most extreme surveillance in the history of western democracy."
The legislation in question is called the Investigatory Powers Bill. It's been cleared by politicians and granted royal assent on November 29th — officially becoming law. The bill will legalize the UK's global surveillance program, which scoops up communications data from around the world, but it will also introduce new domestic powers, including a government database that stores the web history of every citizen in the country. UK spies will be empowered to hack individuals, internet infrastructure, and even whole towns — if the government deems it necessary.
Although the UK's opposition Labour Party originally put forward strong objections to the bill, these never turned into real opposition. The combination of a civil war between different factions in Labour and the UK's shock decision to leave the European Union means the bill was never given politicians' — or the country's — full attention. Instead, it will likely inspire similar surveillance laws in other countries. After all, if the UK can do it, why shouldn't everyone else? And there will be no moderating influence from the US, where the country's mostly intact surveillance apparatus will soon be handed over to president-elect Donald Trump.
With this global tide of surveillance rising, it's worth taking a closer look at what exactly is happening in the UK. Here's our overview of what the Investigatory Powers Bill entails:
Senators plan last-ditch push to curb U.S. law enforcement's hacking power – Unless Congress takes 11th-hour action, the FBI and other law enforcement agencies will gain new authority this week to hack into remote computers during criminal investigations.
Proposed changes to Rule 41, the search and seizure provision in the Federal Rules of Criminal Procedure, would give U.S. law enforcement agencies the authority to cross jurisdictional lines and hack computers anywhere in the world during criminal investigations.
The rules, in most cases, now prohibit federal judges from issuing a search warrant outside their jurisdictions. The changes, approved by the U.S. Supreme Court in April at the request of the Department of Justice, go into effect on Thursday unless Congress moves to reverse them.
Lawmakers opposed to the changes are planning a last-minute push to roll them back. Senators will attempt to bring the issue to a vote on Wednesday, said a spokesman for Senator Ron Wyden, an Oregon Democrat.
Wyden and four other senators are sponsors of the Stop Mass Hacking Act, a bill to reverse the proposed changes. A similar bill in the House of Representatives has 12 co-sponsors. Two other bills, introduced earlier this month, would delay the proposed changes to give Congress more time to debate them.