5 privacy settings to change in Windows 10;  3 great cloud managers for keeping track of all your files;  12 Ways to Secure Your Wi-Fi Network;  7 Augmented Reality Apps to Help You Avoid Buyer's Remorse;  Google Photos can now turn videos into GIFs;  The Best Cheap Cell Phone Plans You've Never Heard Of;  Facebook now lets cast videos to your TV;  This is the newest tactic cybercriminals are using to deliver ransomware – and much more news you need to know.
5 privacy settings to change in Windows 10 – Windows 10 is running on over 400 million devices, but it still has all sorts of privacy issues — including mandatory diagnostic and usage data reporting to Microsoft, and a troubling amount of ads sprinkled throughout the platform. Not all of Windows 10's problems can be fixed, but there are some things you can do to reclaim your privacy. Here are five privacy-related settings you can change for a less invasive and more secure Windows 10 experience.
12 Ways to Secure Your Wi-Fi Network – If you're worried about the security of your home network, and by extension your personal data—especially from hackers who could casually sit in a car outside and get access to your systems—then you need to put a padlock on that wireless. You may also want to prevent others from using your network, hackers and freeloaders alike. So what do you do? Follow these tips and you'll be well ahead of most home Wi-Fi users. Nothing will make you 1,000 percent safe against a truly dedicated hack. Crafty social engineering schemes are tough to beat. But don't make it easy on them; protect yourself with these steps.
Instagram arrives on Windows 10 PCs and tablets, still not on iPad – As you'd expect, the familiar Instagram features are all supported in Instagram for Windows 10, including access to Instagram Stories, Direct, and Explore. You can also capture, upload, and edit photos, but you'll need a Windows 10 tablet or PC with a touchscreen to be able to actually upload images. It's a bizarre restriction, but devices like Microsoft's Surface Pro and Surface Book work fine for uploading. You can download Instagram for Windows 10 PCs from Microsoft's Windows Store.
3 great cloud managers for keeping track of all your files – Chances are you've got more than one cloud storage account. Maybe you're using Google Drive for your personal files and Box for work stuff. Or you might use two or three different services to keep redundant backups of your most critical files. Whatever your system, juggling multiple cloud drives can be daunting. What you need is a cloud storage manager. These tools enable you to search, sync, and transfer files between all your accounts from one central hub. Here are three of the best.
7 Augmented Reality Apps to Help You Avoid Buyer's Remorse – Augmented reality-enhanced shopping apps lessen the likelihood that you'll be disappointed by letting you try on and try out objects on your phone or tablet before you buy them, thanks to on-screen overlays. There's an aspect of the surreal in pieces of furniture popping in and out of your living room or instantly swapping out a lipstick. But these apps are as entertaining and addicting as their AR cousin, Pokemon Go. Check out some of our favorites in the slideshow.
Google starts highlighting fact-checks in News – Today Google added a new "fact-check" tag to its popular Google News service. The site aggregates popular timely news from multiple sources and has traditionally grouped them with tags like "opinion," "local source" and "highly cited." Now readers can see highlighted fact-checks right next to trending stories. ClaimReview from Schema.org will be used to compile and organize stories offering factual background. The Schema community builds markups for structured data on the internet. The group is sponsored by Google but also has support from Microsoft, Yahoo and Yandex.
Google Photos can now turn videos into GIFs, fix sideways photos & more – Google Photos was already one of the smartest cloud photo services available today, thanks to its search technology and built-in assistant that automatically creates collages, animations and more from your uploads. Now, the company is upgrading its service again, with a bevy of new features aimed at helping you revisit your memories and generally better enjoy your photos. This update includes tools that help orient pictures correctly as well as extract shareable animations from your videos, among other things. Before, the service was capable of turning a collection of photos from the same moment in time into a looping animation, and it could turn your Live Photos on iOS into GIFs, too. Now the company is extending that same support to your videos.
How to get your Galaxy Note 7 recall $100 credit (to get another phone) – In case you missed it, a second recall for the Galaxy Note 7 has now been made official, with Samsung working alongside the US Consumer Product Safety Commission to get defective devices out of the hands of consumers. It should be noted that this second recall applies to both original and replacement phones, meaning if you own a Galaxy Note 7, it's being recalled regardless of variety. As an added incentive to get customers to turn in their potentially dangerous Note 7 devices, Samsung is offering a range of bill credits – here's how to figure out which credit you qualify for and how to secure it.
Apple is now selling unlocked iPhone 7 and iPhone 7 Plus handsets in the US – Apple is now selling unlocked iPhone 7 and iPhone 7 Plus smartphones in the United States. The SIM-free versions of the latest models will work with any US network, Apple says, with prices starting at $649 for the iPhone 7, and $769 for the larger iPhone 7 Plus. The unlocked devices come in the full range of iPhone 7 colors and storage capacities, but are only available from Apple's online store at the moment, and there's no option for in-store pickup yet. Device stocks appear to be low, too, with delivery expectations of three to four weeks for most models, and six to eight weeks for the jet black version
The Best Cheap Cell Phone Plans You've Never Heard Of – There are a lot of smartphone options beyond the big four carriers in the US. If you're looking to save money, these lesser-known plans might be the ticket.
Facebook now lets cast videos to your TV – Facebook wants you to lean back and watch its News Feed videos on your television with a new feature that lets you stream clips via Apple TV, AirPlay devices, Google Chromecast, and Google Cast devices. The move could help Facebook generate more video ad revenue, and increase usage time by giving people the richest possible viewing experience while at home. The feature is now available on iOS and will come to Android soon. To use it, just find a video in the feed on your phone or desktop, tap the TV button in the top right, and then select the device you want to stream through.
Twitter launches Periscope Producer to enable TV-quality videos – Twitter is expanding beyond amateur videos captured on smartphones by enabling its brand partners to broadcast high-quality TV-like content through Periscope Producer. Producer allows brands to use external cameras, VR headsets, and streaming software to broadcast professional-quality videos. Producer cannot professionalise a video itself; it simply captures higher-resolution videos.
Best color LED smart bulbs – Color LED bulbs aren't quite a commodity yet, but they are getting close to maturity as far as the market goes. Today's bulbs are more compact, much brighter, have better color representation, and, for the most part, feature control apps that do more than ever, and are easier to set up. Prices have also come down, with some no-name color-tunable bulbs now available for less than $10 each. (Buyer beware: You get what you pay for.) We've tested just about every A19 color LED smart bulb on the market. You'll find links to all of our reviews at the bottom of the page, and we'll update this story as new models are introduced.
Why you should try Linux today: 6 compelling reasons – Windows works just fine for hundreds of millions of people, and—sorry, Linux lovers—there's little to suggest Linux usage will ever be more than a rounding error compared to Microsoft's behemoth. That said, there are some pretty compelling reasons you might want to consider switching to Linux on your computer, or at least give it a hassle-free trial run.
Windows 10's next major update to debut in March – Microsoft is planning at least two major updates to Windows 10 next year, and the first (codenamed Redstone 2) will likely arrive in March. Twitter user WalkingCat has discovered several references to "Windows 10 Version 1703" in the latest test versions of Microsoft's operating system. These references refer to the year and month of a release, and Microsoft has previously used the same codes for its Anniversary Update (1607) released in July, and a November update (1511) last year. Microsoft is expected to detail what the company is planning to include in its next major Windows 10 update at a special Surface PC event later this month.
Microsoft's Windows Server 2016 is now generally available – Microsoft's Windows Server 2016 is now generally available and rolling out to customers. Presales for Server 2016 started on October 1 and Microsoft always said that customers would get access to the actual bits in mid-October. Now that it's mid-October and the leaves are falling, the company is living up to this promise. In addition, System Center 2016, Microsoft's data center management solution for deploying and managing servers and desktops, has now also hit general availability.
How to shut down your PC at a set time – Two simple programs make it easy to shut down your PC at a specified time.
Security:
The real reason companies don't take security seriously: Their money isn't on the line – Every other day there's yet another security breach. Yahoo's announcement that 500 million accounts had been compromised is the most recent, and largest, but even that can barely raise more than a yawn from investors. The reason, according to professors Shiva Rajgopal (Columbia Business School) and Suraj Srinivasan (Harvard Business School), is that a gaping chasm exists between the costs of security breaches and the amount a company's investors must pay to remediate them. In short, markets are failing to properly price security breaches, causing companies to grow lax in their security procedures.
This is the newest tactic cybercriminals are using to deliver ransomware – Email remains very much the main delivery method of ransomware but over the last three months there's been a shift in tactics, with cybersecurity researchers at Symantec spotting a sudden surge in Windows Script Files (WSF) used to distribute ransomware. WSF files are opened by Windows Script Host (WSH) and are designed to allow a variety of scripting languages to mix within a single file. What makes files with the .wsf extension appealing to cybercriminals, hackers, and other ransomware pushers is that they're not automatically blocked by some email clients and can be launched like a standard executable file.
Thousands of online shops compromised for credit card theft – Almost 6,000 online shops have been compromised by hackers who added specially crafted code that intercepts and steals payment card details. These online skimming attacks were first discovered by Dutch researcher Willem de Groot a year ago. At that time, he found 3,501 stores containing the malicious JavaScript code. However, instead of getting better, the situation is increasingly worse. By March the number of infected shops grew by almost 30 percent to 4,476, and by September, it reached 5,925. More than 750 online stores that were unwillingly skimming payment card details for attackers in 2015 are still doing so today, showing that this type of activity can go undetected for months, the researcher said in a blog post.
Cisco patches critical authentication flaw in conferencing servers – Cisco Systems has patched a critical vulnerability that could allow attackers to gain access to Cisco Meeting Server deployments, which are used in enterprise environments for video and audio conferencing.
Tor Project and Mozilla Making It Harder for Malware to Unmask Users – Generally, the Tor network provides a high level of protection and anonymity for its users. So much so that law enforcement agencies, instead of attacking the network itself, have opted to hack individual users' computers, or end-points. This way, investigators have learned Tor users' IP addresses. But the Tor Project, the nonprofit that maintains the Tor software, and the team behind Mozilla's Firefox, have quietly been working on improvements that, they say, should make such attacks more difficult. By tweaking how the browser connects to the Tor network, malware designed to unmask users may have a harder time doing so.
Clinton campaign chief's iPhone was hacked and wiped, photos suggest – Unconfirmed evidence builds a strong case that an Apple iCloud account belonging to Hillary Clinton's campaign chief, John Podesta, was accessed and possibly erased by hackers less than 12 hours after his password was published on WikiLeaks. So far, Clinton campaign officials have confirmed only the compromise of Podesta's Twitter account after it was used to urge followers to vote for Republican nominee Donald Trump. Several screenshots circulating online, however, strongly suggest that the iCloud account tied to Podesta's iPhone was also illegally accessed by people who tried—and possibly succeeded—to wipe the device of all its data.
GlobalSign security certificate foul-up knocks out secure websites – If you can't get to some of your favorite websites today, it's may not have a thing to do with your browser or ISP. The blame likely goes to GlobalSign, a Belgium-based security certificate provider. The company fouled up a clean-up of some of their root certificates links. This resulted in many "secure" websites showing up as being insecure and, depending on your web browser, unavailable.
Facebook's bug bounty: Now it's paid out $5m for security flaws to 900 hunters – Facebook has paid out $5m to researchers over five years for reporting bugs in its social-media, messaging, and hardware platforms. It kicked off its bug bounty program in 2011, which now, in its fifth year, pays researchers for reporting bugs not just in Facebook sites and apps, but also on Instagram, Oculus Rift, Free Basics, and as of this year WhatsApp. According to Facebook, the program has paid out $5m to over 900 researchers in that time. Over $610,000 of that went to 149 researchers in the first half of 2016, mostly to researchers in India, the US, and Mexico, according to Joey Tyson, a security engineer on the Facebook Bug Bounty team.
Company News:
HP Inc to cut up to 4,000 jobs by 2020 – The US computer giant confirmed it will be cutting 3,000 to 4,000 staff company-wide over the next three to four years.
The Note7 debacle will cost Samsung another $3 billion in profit – The fallout from the Note 7 debacle, which is expected to take a big chunk out of Samsung's third-quarter profit, will keep hurting its business into next year, the company said.
After Yahoo data breach, Verizon hints that it could pull out of $4.83B deal – Verizon's top lawyer told reporters Thursday that Yahoo's September announcement of a data breach of more than 500 million e-mail accounts constitutes a potential material impact that would allow for the mobile powerhouse to pull out of the $4.83 billion deal. That arrangement, which was announced in July 2016, has yet to formally close. "I think we have a reasonable basis to believe right now that the impact is material and we're looking to Yahoo to demonstrate to us the full impact," Craig Silliman said, according to Reuters. "If they believe that it's not then they'll need to show us that." Silliman declined to respond to questions about whether Verizon was trying to negotiate a lower price.
Facebook tells IRS it won't pay billions over Irish tax maneuver – Apple isn't alone in taking advantage of the US tax system. Facebook also established an overseas subsidiary in Ireland largely for tax purposes—using what is known as the "Double Irish" technique—and named Dublin its base for business outside North America. But the Internal Revenue Service claims Facebook undervalued the move, and the IRS wants the California company to pay $1.7 million in taxes, plus interest, for the year 2010 and possibly subsequent years—an amount that Facebook says could reach billions. Facebook, however, told the IRS late Tuesday in a court filing that it shouldn't have to pay. It's a tax fight likely to fuel the debate over tax loopholes, which have become a hot-button topic in the presidential race between Hillary Clinton and Donald Trump.
AWS, VMWare announce strategic partnership, new hybrid cloud service – Once rivals, Amazon Web Services and VMWare announced a new service running VMware's software-defined data center on the AWS cloud.
Games and Entertainment:
The 5 best PlayStation VR games to buy on day one – As release day for the Sony PlayStation VR is almost upon us, we've put together a list of the 6 best games available on day one. This PlayStation 4 PlayStation VR games list includes games that are both never-before-released and released on other platforms previously. It includes a game originally released on Sega Dreamcast and a game that'll throw its user into space. This is a list of the best of the best on Sony's PlayStation VR virtual reality headset, a deciding list on whether or not this console can beat the PC rigs.
Gears of War 4 runs beautifully on Xbox One, even better on PC – Digital Foundry examined both the Xbox One and PC releases, and there's not much to complain about. The Xbox One version uses resolution scaling to hit 30fps at almost all times, and still manages to stay at 1080p for most of the campaign. Better yet, the anti-aliasing solution, lighting effects, and texture filtering in Unreal Engine 4 come together here to make one of the best looking console games of this hardware cycle. On the PC side, you can customize nearly anything you can think of. So whether you're rocking a brand new GTX 1080 or an older GTX 750 Ti, you should be able to tweak enough knobs to get it running smoothly. Eurogamer tested the game on both a GTX 970 and a R9 290X, and the game seems to scale with relative ease. With that in mind, you should be fine with midrange gaming cards. Just know going in that only top-of-the-line hardware will be able to run Gears of War 4 at 2160p60. Older hardware should stick with 1080p.
You can now claim your cash in the PS3 "Other OS" settlement – If you bought an original "fat" PlayStation 3 before April of 2010, you can now claim some cash from Sony as part of the settlement of a long-litigated case over the removal of the system's "Other OS" feature. Using an online claim form, all early PS3 owners in the United States can receive $9 from Sony (with proof of purchase or evidence of a PSN sign-in from the system). Users that can provide evidence that they actually used the "Other OS" feature to install Linux on their PS3 can receive $55. Claims are due by December 7, and payments should be sent out early next year pending final approval of the settlement.
Cult classic Beyond Good & Evil is free for a month – Are you a gamer? Have you played Beyond Good & Evil? If not, now's a pretty good time to do it. Developer Ubisoft has made the 2003 video game free for PC gamers for the next month. Beware though, it's the original version and not the 2011 remaster. The game, directed by Rayman creator Michel Ancel, is a cult favourite, despite not breaking the bank for Ubisoft. A sequel, Beyond Good & Evil 2, has been in development on and off since 2008.
Off Topic (Sort of):
The Ultimate Virtual Reality Buyer's Guide – So which VR headset is right for you? That decision will likely come down to how much you're willing to spend, and what kind of hardware you already own. Most of these headsets cost hundreds of dollars, while some require expensive, high-end computers to help power them. Here's a closer look at how today's VR offerings compare — and which headsets we recommend.
Tyler Essary for TIME
US National Archives launches new collection of free historical GIFs – The National Archives and Records Administration (NARA) is getting into GIFs. The agency in charge of preserving the nation's most significant documents, images, and video, has started a new channel on Giphy, and is filling it with a mix curious and historical content. So far, NARA has only uploaded around 150 GIFs, but the channel will be updated continually.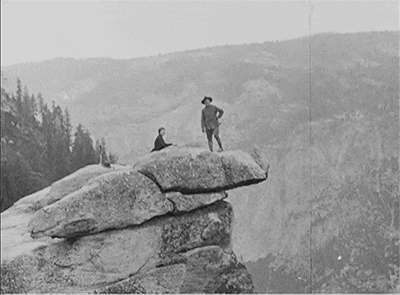 Waving hello in Yosemite Valley in 1924
Yelled at your phone yet today? Of course you have – Technically Incorrect: A study claims that technology is making us completely mad. You will have more than 40,000 tech rage incidents in your life.
Report: Aussie Apple Staff Fired Over Customer 'Photo Ring' – Four male retail workers were sacked for sharing explicit images of women and stealing pics from clients' iPhones.
Here are the best (and fastest) ways to register to vote – As this year's presidential election gets closer, here's what you need to know in order to make sure you're registered to vote.
How electric Bob Dylan made it OK to rock the folk – No matter how the years pass, one historic event will forever follow Bob Dylan, who was named a Nobel laureate Thursday. Let's revisit that fateful moment at the Newport Folk Festival in Rhode Island. It was 1965, and Dylan strolled on stage with a Fender Stratocaster guitar and dropped an electric bomb on the acoustic folk movement. It was a critical juncture in music history. It set the tone for cross-genre musicians like me and the folk/rock/country/blues band I play in. It made it OK to be a troubadour without being defined by whether you needed an electrical outlet.
Something to think about:
"Knowledge and timber shouldn't be much used till they are seasoned."
–       Oliver Wendell Holmes
In Pursuit of Freedom – The Pushback Continues:
Google's latest Transparency Report sets more records in government request numbers – Google has added the data from the first half of 2016 to its ongoing Transparency Report page, and the changes are pretty much what you'd expect: more requests. Some frivolous, some legit, some top secret.
Requests for user information jumped to a record total of 44,943 (up from the previous six months' 40,677), with the U.S. leading the pack, as usual, with 30,123 of those — second place goes to Germany, then France a distant third, with India and the U.K. at her heels.
New to the board: Algeria, Belarus, Cayman Islands, El Salvador, Fiji and Saudi Arabia. Welcome! None produced more than a handful of requests, though.
The U.K. overtook India, but other than that, the top 5 are unchanged.
An average of 64 percent of those requests were granted, though Google doesn't (and in most cases can't) give details of which accounts and data were requested.
The statistics for content removal requests are more detailed, but that data is still from late 2015; I'm sure we can expect updated numbers there soon.
Euro politicians are hyping the terror threat to steal your privacy – European politicians are using a bogus terror threat to coerce their populations, says Open-Xchange founder Rafael Laguna. It's a year since we caught up with the always-quotable CEO, and he hasn't mellowed.
"Privacy Shield is a band aid on a wound that won't heal," he said. "It's just a Band Aid on a wound – the wound is still there. The wound is that the privacy laws in the US and Europe are very different".
If only Governments were as keen on reining in their own robber barons, he added.
"It's a crazy world we live in. The internet has been taken over by private companies that make their own rules. They ignore local laws."
The Yahoo! hack illustrated this, he told us in an interview at Open Exchange's Frankfurt summit.
The fundamental problem, Laguna suggests, is that Americans can't understand European privacy concerns.
"Privacy is a basic right in European law. It is not in US law. In the US, companies cannot access their people's [employees] In fact, we find that idea appalling. It's like walking into your bedroom. But in the US, I don't hear any complaints."